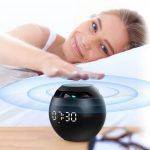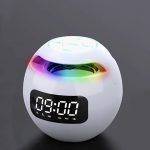 Bluetooth music ball كرة موسيقى بلوتوث
USD 17
هذه الكرة الساحرة متعددة الوظائف. مزيج من الساعة والمنبه ومشغل الموسيقى، و مكبر صوت للهاتف.
ما عليك سوى توصيله بهاتفك الذكي والاستمتاع بالموسيقى بصوت رائع. تضيف الإضاءة المحيطة بالتأكيد البهجة والراحة إلى مزاجك
أداة جميلة حقًا لغرفتك أو مكتبك أو في الهواء الطلق.
متوفر باللونين الأبيض والأسود.
This enchanting ball is multifunctional. A combination of clock, alarm, telephone speaker, and music player.
Simply connect it to your smartphone and enjoy music with great sound. The Ambient lighting surely adds joy and comfort to your mood.
A truly beautiful gadget for your room, office, or outdoor.
Available in black and white.
Price: $24
تجدونها في موقعنا الرسمي والمميز
Find this great item and more in our website
🌐 www.good-ideas.online
"Home ideas" section