Sale!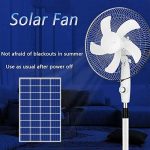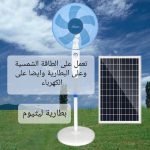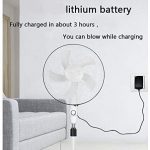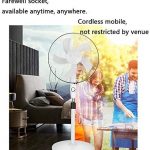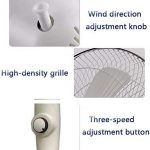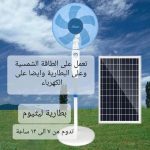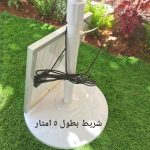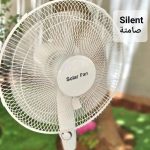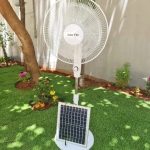 Solar Fan مروحة طاقة شمسية
In stock
مروحة لا تحتاج كهرباء لشحن البطارية بفضل نظام الطاقة الشمسية واللوح المرفق معها. توضع اللوحة الشمسية في الخارج بفضل كابل بطول ٥ امتار.
وزن خفيف، تعمل بدون صوت، بطارية ليثيوم كبيرة
نوعية ممتازة وحل رائع.
المواصفات:
الألواح الشمسية: بوليسيليكون 51 واط
بطارية الليثيوم: 12 فولت –15.6 أمبير
حجم المروحة: 45 سم – الارتفاع: ١٢٠ سم
حجم الألواح الشمسية: 30×35 سم مع كابل بطول 5 أمتار.
وقت الشحن: 2 الى 4 ساعات
وقت الاستخدام خلال النهار: طوال الوقت
وقت الاستخدام عند استخدام البطارية فقط:
مستوى الاستخدام اعلى درجة 7 ساعات.
مستوى الاستخدام ادنى درجة 12 ساعة.
لون المنتج: أبيض
This fan does not need electricity to recharge it due to the integrated solar system in it. Simply use the 5 meters long cable to put the panel outside and let it charge.
light weight, silent, big lithium-ion battery
Specifications:
Solar panel: 15w Polysilicon
Lithium battery: 12V – 15.6 amps Charger 1A adapter charger (with 1.5m cable)
Fan size: 45cm – Height: 120cm
Solar panel size: 30 x35cm with 5 meters long cable.
Charging time: 2 to 4 hours
3 power levels
Usage time during day time: All the time
Usage time when using only battery:
Power level 3 usage 7 hours.
Power level 1 usage 12 hours
product color: white
Additional information
| | |
| --- | --- |
| Weight | 5.3 kg |
| Dimensions | 47 × 16.5 × 43 cm |