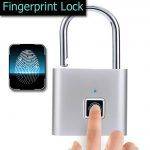 Fingerprint lock
USD 20
In stock
Fingerprint lock قفل بصمة
هذه فكرة مبتكرة ، لم تعد بحاجة إلى مفاتيح بفضل هذا القفل الذي يفتح ببصمة إصبعك.
يمكنك حفظ العديد من البصمات.
مقاوم للماء ، ومقاوم للصدأ . مصنوع من معدن عالي الجودة.
كل شحنة بطاريات تدوم لأشهر.
جربها واستمتع بشيء جديد!
This is an innovative idea, no need for keys anymore thanks to this lock that unlocks by your fingerprint.
Save prints as much as you want, no limit.
Waterproof, rustproof, and made from high quality metal.
Each charge lasts for months.
Try it our and enjoy something new!
Additional information
| | |
| --- | --- |
| Weight | 0.1 kg |
| Dimensions | 15 × 6 × 3 cm |