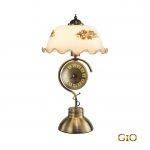 Luce del Tempo- table lamp
USD 60
In stock
Luce del Tempo- table lamp
غير عادي ومختلف وجميل. يبرز مصباح الطاولة هذا ببساطة بتصميمه الاستثنائي. مزيج من المصباح والساعة هو ما يجعلها فريدة من نوعها.
مصنوع من معدن البرونز ومواد أخرى عالية الجودة
Unusual, different, and beautiful. This table lamp simply stands out with its extraordinary design. A combination of a lamp and a clock is what makes it unique.
Made from bronze metal and other high quality materials.
Price: $52 السعر
Find it and more exciting items at our Official website
🌐www.good-ideas.online
"Lighting" section قسم الانارة
Additional information
| | |
| --- | --- |
| Weight | 2.6 kg |
| Dimensions | 53 × 35 × 26 cm |