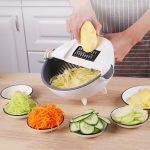 Vegetables bowl
USD 14
In stock
Veggie bowl
هذا الوعاء ضروري لكل مطبخ حديث. انسي الطريقة التقليدية القديمة ، يمكنك الآن تقطيع وغسل الخضار والفواكه بسهولة وبسرعة
أصبح تحضير الغداء أو العشاء أكثر سهولة الآن. هدية ممتازة ومفيدة لك أو للأحباب.
مصنوعة من بلاستيك عالي الجودة ، وشفرات من الفولاذ المقاوم للصدأ تدوم لسنوات.
This bowl is essential for every modern kitchen. Forget the old traditional hectic way, now you can cut, slice, and wash your vegetables and fruits easily and quickly
Preparing your lunch or dinner is now easy more fun. A really good and helpful gift to yourself or your loved one.
Made from high quality plastic, and stainless steel blades that last for years.
Additional information
| | |
| --- | --- |
| Weight | 0.650 kg |
| Dimensions | 23 × 23 × 13 cm |